May 2012

| Sun | Mon | Tue | Wed | Thu | Fri | Sat |
| --- | --- | --- | --- | --- | --- | --- |
| | | 1 | 2 | 3 | 4 | 5 |
| 6 | 7 | 8 | 9 | 10 | 11 | 12 |
| 13 | 14 | 15 | 16 | 17 | 18 | 19 |
| 20 | 21 | 22 | 23 | 24 | 25 | 26 |
| 27 | 28 | 29 | 30 | 31 | | |
---
CATEGORIES
---
RECENT ENTRIES
---
BLOG ROLL
Stress test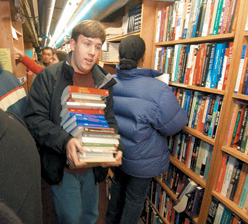 If I were a poet or a poetry scholar, I'd have something insightful to say about English doctoral student Michael Robbins's (AM'04) "Lust for Life," which appears in this week's New Yorker—his second poem published there this year. Impressive, but not my area.
Something I can comment on is stress. In the Daily Beast's "50 Most Stressful Colleges," Chicago ranks No. 11. As Ana Marie Cox, AB'94, tweeted: "#UChicago is so stressful they're probably relieved to be just #11 on this list." I don't know if a university's cost factors into a student's stress level at 35 percent, as the Daily Beast weights it. Seems to me that, although many students work to pay off student loans and other debt, the day-to-day schoolwork is more of an immediate stress inducer. And I'm not sure that having a rigorous engineering program deserves 10 percent of a school's stress-level indicator. Chicago has no engineering school, but have the Beast editors seen students in the Reg wrestling with Human Being and Citizen readings?
What do you think about these rankings? Or do you have a stressed-at-Chicago story to share? Please use the comment form below to commiserate.
Amy Braverman Puma
Photography by Lloyd DeGrane
April 7, 2010