May 2012

| Sun | Mon | Tue | Wed | Thu | Fri | Sat |
| --- | --- | --- | --- | --- | --- | --- |
| | | 1 | 2 | 3 | 4 | 5 |
| 6 | 7 | 8 | 9 | 10 | 11 | 12 |
| 13 | 14 | 15 | 16 | 17 | 18 | 19 |
| 20 | 21 | 22 | 23 | 24 | 25 | 26 |
| 27 | 28 | 29 | 30 | 31 | | |
---
CATEGORIES
---
RECENT ENTRIES
---
BLOG ROLL
Campus walks
Thousands of alumni will walk the quads this weekend. Most mornings, it's quieter.
This morning the main quadrangle has blossomed with Alumni Weekend tents and balloons. Next Saturday, the first all-University Spring Convocation in decades will blanket the expanse in maroon and black robes and a crazy quilt of bright summer dresses (or, should it rain, umbrellas popping up like variegated dandelions).
Most mornings, however, the scene is more serene. I should know. Since the Magazine's offices moved downtown a few summers back, I spend most of my time on the quads before 7:30 a.m.
With dogs, the rule goes, if you do something twice it's coincidence; more than that, it's a law of nature. So, most mornings, Knightley and I make it to the main quadrangle—the route goes through Bixler playlot, west on 56th past Alumni House and Crown Gym, and south through Bartlett Quad.
Good squirrel trees, smelly bits of pavement, the thick brush near Palevsky Commons where young rabbits dart at the sound of dog-tags—we know them all. Our progress through the quads—Classics to Harper to Social Sciences—is punctuated by the smallest of exclamation points. A squirrel gets spotted and the leash jerks. An early-to-work colleague stops to say hello. A maintenance cart drives along the wide limestone path. As Knightley sniffs at bits of flora to see what fauna has gone before him, I have plenty of time to stop and smell the roses—or at least take pictures of the latest campus landscaping.
Then it's back to home and (for me) to work.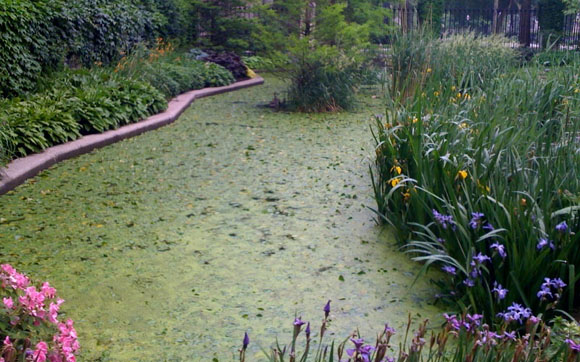 Botany Pond (drakes guarding their families are the highlight here).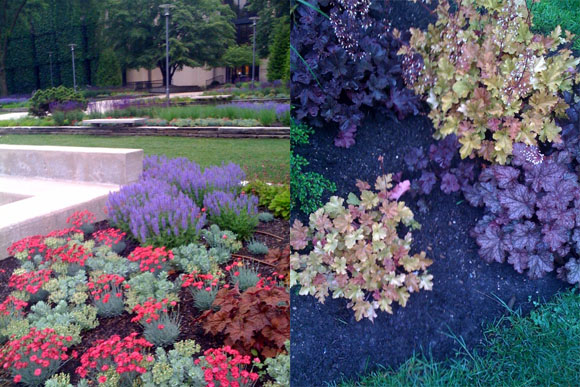 Terraced landscaping (left) now leads the way to the Regenstein (we stop here to look for nibbling rabbits); on the main quadrangle (where there are almost as many squirrels as flowers).

Peonies bowed by a midnight storm.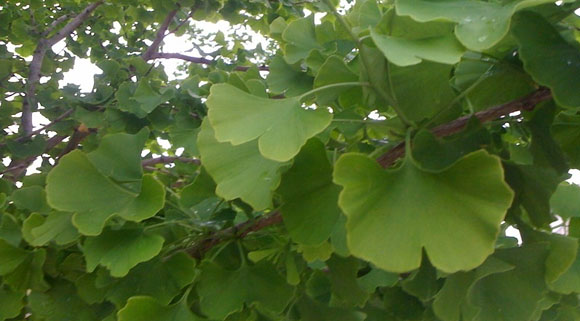 Gingko trees outside Chicago Booth's Harper Center.
Mary Ruth Yoe
June 4, 2010