May 2012

| Sun | Mon | Tue | Wed | Thu | Fri | Sat |
| --- | --- | --- | --- | --- | --- | --- |
| | | 1 | 2 | 3 | 4 | 5 |
| 6 | 7 | 8 | 9 | 10 | 11 | 12 |
| 13 | 14 | 15 | 16 | 17 | 18 | 19 |
| 20 | 21 | 22 | 23 | 24 | 25 | 26 |
| 27 | 28 | 29 | 30 | 31 | | |
---
CATEGORIES
---
RECENT ENTRIES
---
BLOG ROLL
Convocation a rainy success
A downpour drenched the first unified Spring Convocation since 1929, but the University community soaked up the atmosphere.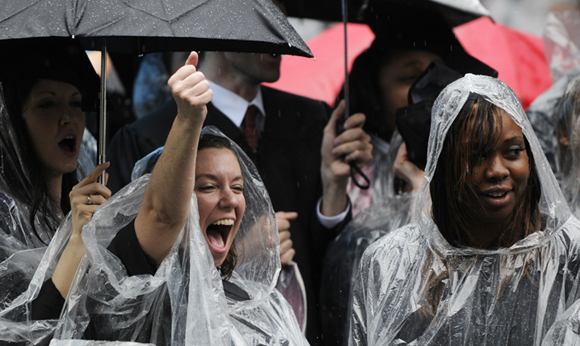 In devising the first University Convocation in 1892, founding president William Rainey Harper saw the occasion as an opportunity to "bestow the proper award for work accomplished…" and "to furnish an opportunity to look back for a moment over the months of work completed," but also, and more unusually, "to bind together into a unity the many complex and diverging forms of activity which constitute our university life and work." With this goal in mind, this year the University administration set a bold and daunting challenge: to hold a single, unified Spring Convocation for the first time since 1929.
For the past eight decades, spring convocations have been split into two, then three, and finally four sessions, held originally in Rockefeller Chapel, and since 1998, in Harper Quad. To bring the entire University together would require an even larger venue, and an imposing logistical challenge: host as many as 20,000 degree candidates, students, faculty, staff, and guests—at once—on the Main Quadrangle.
Staff worked for months to plan the event, an undertaking that involved renting some 22,000 folding chairs, erecting a huge temporary stage along University Avenue, and recruiting hundreds of staff and student volunteers. The event's emergency plan had to be amped up to include a weather monitoring radar system, a second ambulance on stand-by, three bicycle-mounted medics patrolling the Quad, and an evacuation plan. All turned out to be needed, given two ill guests and one sudden cloudburst that convinced many celebrants to monitor the rain-or-shine ceremony from Ryerson, Kent, Swift, and Rosenwald Halls. Not all guests felt the need to seek cover, however: the young family of one Harris School candidate was seen taking advantage of the scattering crowd to move into seats closer to the stage.
One of the trickier parts of planning for a new event of this scale is ordering the right number of the items that help guests stay comfortable throughout the day—bottles of water in case of heat and ponchos in case of rain—knowing that one will inevitably turn out to be far more in demand than the other. Turns out, there is plenty of water left over for the 504th Convocation on August 27th, but a new shipment of ponchos need to be ordered.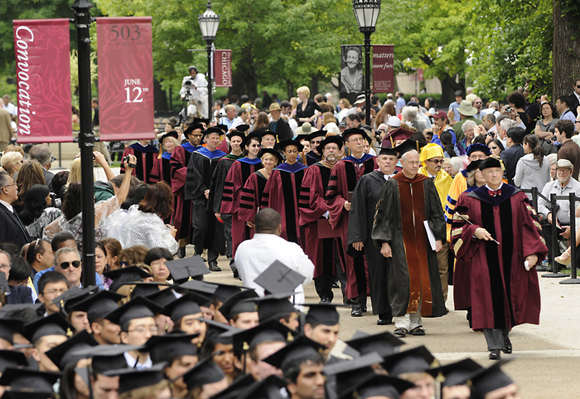 Kyle Gorden, AB'00
Not even a downpour could dampen Convocation festivities. Photography by Dan Dry
June 14, 2010