May 2012

| Sun | Mon | Tue | Wed | Thu | Fri | Sat |
| --- | --- | --- | --- | --- | --- | --- |
| | | 1 | 2 | 3 | 4 | 5 |
| 6 | 7 | 8 | 9 | 10 | 11 | 12 |
| 13 | 14 | 15 | 16 | 17 | 18 | 19 |
| 20 | 21 | 22 | 23 | 24 | 25 | 26 |
| 27 | 28 | 29 | 30 | 31 | | |
---
CATEGORIES
---
RECENT ENTRIES
---
BLOG ROLL
Graphic Reading, Part One
Summer is here, and the graphic-novel gurus at the Seminary Co-op have your reading list ready.
When you wrestle with words all day, there's nothing like a big book with pictures. Three serious readers who tend the "Graphica" section at the Seminary Co-op think so, anyway. To accommodate the expanding popularity of graphic novels and comics, the bookstore offers a growing selection of the genre. Assistant manager Heather Ahrenholz, AB'94, and staffers Doug Riggs, AM'04, and Greg Pearson shared this list of recommended titles, keeping UChicago readers in mind.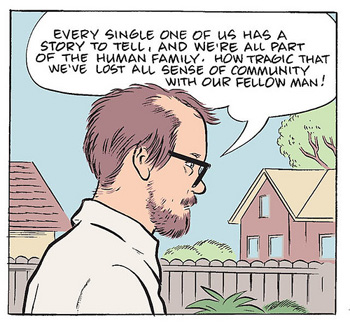 1. To Teach: The Journey, in Comics, William Ayers and Ryan Alexander-Tanner. A graphic-novel version of Bill Ayers's memoir, from his perspective as an educator and school-reform activist.
2. Wilson, Daniel Clowes, U-High'79. These cartoons by Lab Schools alum Clowes—the author of Ghost World—feature a "navel-gazing, socially inept, perpetually depressed, but somehow appealing" protagonist.
3. The Book of Genesis Illustrated by R. Crumb, R. Crumb. The legendary underground cartoonist's take on the first book of the Bible.
4. Logicomix: An Epic Search for Truth, Apostolos Doxiadis. The life and thought of Bertrand Russell, including his encounters with the philosophers Frege, Hilbert, Gödel, and Wittgenstein and his study of the foundations of mathematics. Really.
5. Explainers: The Complete Village Voice Strips (1956-1966), Jules Feiffer. The first in a four-volume collection of "very New York" comic strips published in the Village Voice from 1956 to 2000.
6. The Cartoon Introduction to Economics, Volume One: Microeconomics, Grady Klein, AB'96, and Yoram Bauman. The former Maroon cartoonist is rumored to have written his entire BA paper in comic form. Now an award-winning illustrator, he "paired up with the world's only stand-up economist to take the dismal out of the dismal science."
7. The Beats: A Graphic History, Harvey Pekar, Paul Buhle, and Ed Piskor. Just out in paperback, a literary and cultural history of the Beat generation and such figures as Kerouac, Ginsberg, Burroughs, and Ferlinghetti.
8. Footnotes in Gaza, Joe Sacco. "Essentially a journalist whose medium is comic strips," Sacco--who wrote Palestine and Safe Area Gorazde--investigates the 1956 Rafah massacre in the Gaza Strip.
9. Market Day, James Sturm. Twenty-four hours in the life of a Jewish rug maker in Eastern Europe, in the early 1900s.
10. Parker: The Hunter, Darwyn Cooke. A "thrilling, violent, and very noir revenge story," the first in a planned series of comic adaptations of the Parker novels by Richard Stark.

Stay tuned for Part Two of the list on UChiBLOGo soon.
Elizabeth Station
Daniel Clowes, U-High'79, explores a man's lonely, disenchanted life in Wilson.
June 21, 2010