May 2012

| Sun | Mon | Tue | Wed | Thu | Fri | Sat |
| --- | --- | --- | --- | --- | --- | --- |
| | | 1 | 2 | 3 | 4 | 5 |
| 6 | 7 | 8 | 9 | 10 | 11 | 12 |
| 13 | 14 | 15 | 16 | 17 | 18 | 19 |
| 20 | 21 | 22 | 23 | 24 | 25 | 26 |
| 27 | 28 | 29 | 30 | 31 | | |
---
CATEGORIES
---
RECENT ENTRIES
---
BLOG ROLL
Lost and found
Rebecca Wolfram brings back her Museum of Objects Left on the Sidewalk, a community endeavor.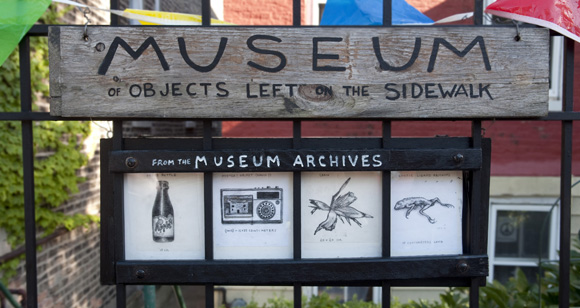 I wasn't sure how I was going to find artist Rebecca Wolfram's late-June museum opening. Given what seemed to be a home address in Chicago's Little Village neighborhood, I didn't really know what I was looking for. I turned left down 21st Street and headed toward the sound of jingling bells (turned out to be an ice-cream truck). Some abandoned lots looked like they could hold a lot of people—but they were abandoned.
Sweating (and already 30 minutes late for the 5 p.m. opening), I turned around and walked in the other direction. Crossing California, I suddenly noticed about 10-15 people gathered on the sidewalk, huddled around four or five others holding beer bottles. Finally, I spotted the photographer I was supposed to be meeting there, Lloyd DeGrane. Bingo.
I got there at just the right time, DeGrane said. Wolfram, AB'71, wearing black sweats and a T-shirt with a very angry bear on the front, was about to start the official opening of her Museum of Objects Left on the Sidewalk. A chorus of whistles and low-pitched hums echoed from people blowing on beer bottles, as Wolfram tried to organize people according to the note they were playing. A young boy, about six or seven, was having trouble making the right noise, so a couple of people gave him tips on how to get the best sound out of the bottle. "Put it to your lips, sweetheart," one woman said.
After a few more tries, the boy gave up. I barely had a chance to look around at the quirky collection of recycled objects (like the wooden chair that had been turned into a planter) crowding the lawn outside Wolfram's house before she called on me: "Can you blow a bottle?"
I laughed nervously. "I'm an observer."
"Can you blow a bottle though?"
I gave in. But a few unsuccessful huffs led to a flurry of advice from the onlookers, Wolfram's neighbors and friends: "You just gotta blow out." "Like, right over the top." "Below the lip. It's almost like blowing in the bottle." "Like, right in between your lip."
"Oh, I think I just got it," I said, before not getting it at all. Wolfram looked at José, her next-door neighbor, who was standing next to me. "You have the same note, right?" José nodded, covering for my incompetence.
The musical ceremony marked the opening of Wolfram's museum, a reincarnation of a 2007 project she started after finding some abandoned shelves in an alley—formerly "the head of someone's bed," she said—and attached them to the fence in front of her house. People could stop by and leave any objects they found on the sidewalk. Once, someone left a giant, ant-infested dead toad. Another time, Wolfram discovered on the shelves "this most beautiful coat-hanger wire sculpture that somebody, I don't know if they made it or they found it, but it was a shark." After about a year and a half, the shelves "completely disintegrated," she said. "It was getting very trashy," so she closed the museum.
Earlier this year, however, she applied for a grant to reopen it. She had been trying to get grants for her painting, but unsuccessfully. "I was so sick of it," she said. "I never get anything." But then she saw an opportunity from the Puffin Foundation. "They fund, I don't know, things that have to do with the community or something or other." So she wrote up a proposal, and got a $350 grant. She hired her neighbor Edward to construct the shelves.
At the opening, she called him her "partner in crime" and asked him to stand beside her while she cut the "wimpy red ribbon." José led the countdown from ten, and, at one, Wolfram made the cut, announcing, "The museum is officially reopened! And thanks to the Puffin Foundation. Thanks to Edward for his excellent work." Throughout her short speech, someone (not me) blew a beer bottle in the background.
Ruthie Kott, AM'07
Wolfram brings the Museum of Objects Left on the Sidewalk back to Little Village. Photography by Lloyd DeGrane.
July 22, 2010