May 2012

| Sun | Mon | Tue | Wed | Thu | Fri | Sat |
| --- | --- | --- | --- | --- | --- | --- |
| | | 1 | 2 | 3 | 4 | 5 |
| 6 | 7 | 8 | 9 | 10 | 11 | 12 |
| 13 | 14 | 15 | 16 | 17 | 18 | 19 |
| 20 | 21 | 22 | 23 | 24 | 25 | 26 |
| 27 | 28 | 29 | 30 | 31 | | |
---
CATEGORIES
---
RECENT ENTRIES
---
BLOG ROLL
Boldfaced name
Frances Oldham Kelsey, PhD'38, MD'50, whose courage and devotion to scientific rigor protected the public from harmful drugs, receives another round of applause.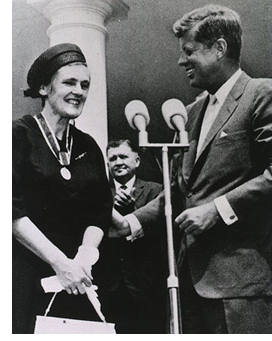 Frances Oldham Kelsey, PhD'38, MD'50, came to the University of Chicago in 1936 because pharmacologist Eugene Geiling mistook her name for a man's. Despite Kelsey showing up unexpectedly female, Geiling must have quickly realized that he hired the right person.
Their research helped prove that an industrial solvent in a medicine called elixir sulfanilamide was responsible for more than 100 deaths attributed to the drug. In the aftermath, Congress tightened testing regulations, although not to Kelsey's satisfaction. Standing between drug companies and the dangers they could inflict on the public came to define her career.
While at Chicago she tested a malaria drug on herself. The study required her to provide regular urine samples—even while she happened to be at a play with her future husband. "So I had my little jar with a tight-sealing top and a paper sack, and during intermission, I went to the toilet," Kelsey told the New York Times this week. "And then I got panic-stricken. Could I get to my seat without dropping this thing?" Her date, fellow pharmacology professor Fremont Ellis Kelsey, "relieved me of the bag. I thought it was the most thoughtful thing he could do."
If handling a urine sample worried her, battling powerful drug companies did not. In 1960 Kelsey went to work for the Food and Drug Administration, staring down the William S. Merrell Company in its quest to approve the morning-sickness drug thalidomide. Testing remained informal and anecdotal, offering insufficient evidence for Kelsey, who denied the application.
Merrell pushed back, threatening to sue, but Kelsey insisted the drug's safety had to be established beyond a doubt despite its approval in 20 countries. European reports of nerve damage related to thalidomide—which the company did not disclose—further entrenched Kelsey's doubt. Proof of birth defects attributable to thalidomide soon became irrefutable, validating her skepticism that largely spared the United States "one of the biggest medical tragedies of modern times."
Kelsey had a fleeting moment in the national spotlight at the time. A 1962 Washington Post report detailed her role in protecting children from the ravages of thalidomide and John F. Kennedy presented her with the President's Award for Distinguished Federal Civilian Service. A career spent shaping more stringent clinical trials made Kelsey a "rock star" within the FDA, but outside the agency her life-saving contributions have faded into obscurity.
This week the 96-year-old Kelsey received another round of applause. The FDA presented her with the inaugural Dr. Frances O. Kelsey Award for Excellence and Courage in Protecting Public Health, and the national media noticed, giving "the public's quiet savior" a deserving moment as a boldfaced name.
Jason Kelly
President John F. Kennedy presents Frances Oldham Kelsey with the President's Award for Distinguished Federal Civilian Service.
Photo courtesy of the National Institutes of Health.
September 17, 2010