May 2012

| Sun | Mon | Tue | Wed | Thu | Fri | Sat |
| --- | --- | --- | --- | --- | --- | --- |
| | | 1 | 2 | 3 | 4 | 5 |
| 6 | 7 | 8 | 9 | 10 | 11 | 12 |
| 13 | 14 | 15 | 16 | 17 | 18 | 19 |
| 20 | 21 | 22 | 23 | 24 | 25 | 26 |
| 27 | 28 | 29 | 30 | 31 | | |
---
CATEGORIES
---
RECENT ENTRIES
---
BLOG ROLL
Cloudy with a dash of habanero
Brushing off inclement weather, the 61st Street Farmers Market delivers the goodies and continues its pioneering program.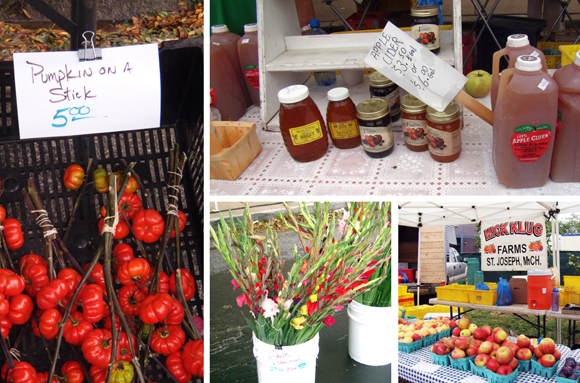 On the second Saturday of September, after deciding that my McDonald's bacon-egg-and-cheese habit was doing me no favors, I headed to Experimental Station's 61st Street Farmers Market. Now in its third season, it runs through October 30 between Dorchester and Blackstone Avenues. After that the market moves indoors through December 18 at Experimental Station. Braving on-and-off storms to find produce free of alphabet-soup chemicals, I turned onto Dorchester and almost ran into the booth for Mick Klug Farms of St. Joseph, Michigan. "I can't believe you guys made it out today," someone said to the Mick Klug representative behind the booth. "Oh, we're here rain or shine," she replied.
Several other stalwart vendors had joined Mick Klug, and I stopped by each booth, perusing row after row of plums, pears, and Honeycrisp, Gala, and Cortland apples. I peered at the Flower Garden's yellow-pink zinnias, and taste-tested Tomato Mountain Farms's salsas. My purchases included two bottles of salsa—Habanero and Chipotle—as well as a delectable cheese roll covered in pistachios.
My last stop was at the information booth, manned by market manager Dennis Ryan. He told me about the market's pioneering venture to double the value of Supplemental Nutrition Assistance Program coupons—or Link dollars as they're often known in Illinois—up to $25 per cardholder, per market day. Committed to making healthy food widely accessible, the market has accepted Link dollars since it opened in 2008. Last year, Ryan jumped at the chance for 61st Street to become the first Illinois farmers market to institute a double-value program, which is funded by Connecticut-based Wholesome Wave.
In 2009, 61st Street led the state in Link farmers market purchases, with $5,000 worth and $700 in double value. This year, they project to do $10,000 in base Link purchases and $7,000 in double value. And they've inspired three independent Chicago farmers markets (Bronzeville, North Lawndale, and Englewood) as well as five that are city-run (Daley Plaza, Lincoln Square, South Shore, Division Street, and Beverly) to follow their lead. Starting this year, the independent markets have instituted Wholesome Wave's double-value program while the city markets are accepting Link dollars for the first time and also participating in the double-value program. Experimental Station provided the independent markets with initial training and support for double value, and, through a Chicago Department of Community Development grant, hired a staff member who handles Link administration for the five city markets.
"Right now, compared to the data we have from other cities and their pilot Link farmers-market programs," says Ryan, "Chicago is on track to have the highest number of transactions that we are aware of."
Katherine Muhlenkamp
September 29, 2010