May 2012

| Sun | Mon | Tue | Wed | Thu | Fri | Sat |
| --- | --- | --- | --- | --- | --- | --- |
| | | 1 | 2 | 3 | 4 | 5 |
| 6 | 7 | 8 | 9 | 10 | 11 | 12 |
| 13 | 14 | 15 | 16 | 17 | 18 | 19 |
| 20 | 21 | 22 | 23 | 24 | 25 | 26 |
| 27 | 28 | 29 | 30 | 31 | | |
---
CATEGORIES
---
RECENT ENTRIES
---
BLOG ROLL
A virtual altar
When 72 migrants were caught in the crossfire of Mexico's drug war, a visiting journalist was moved to act.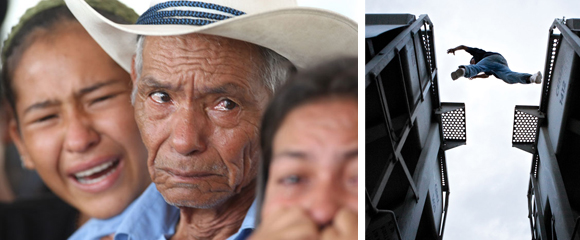 Some 100 miles from the U.S. border on August 23, near the city of San Fernando, writes Alma Guillermoprieto in a recent New York Review of Books essay about the Mexican drug trade, "the Zetas stopped a bus full of migrants, herded them to a nearby isolated ranch, and after a confused series of events lasting several hours, executed seventy-two."
Guillermoprieto, a journalist and Tinker visiting professor of history who has reported on Latin America for the past three decades, describes the Zetas as a rogue Mexican drug cartel that also specializes in human trafficking. Members serve as hired enforcers of illegal trafficking operations on Mexico's southern borders. Smugglers attempting to guide Central and South American migrants across the border without a financial arrangement with the Zetas face repercussions. And although the migrants have left their countries to look for work in the U.S., they may be kidnapped, assaulted, raped, extorted, or—in this case—murdered en route. The gruesome August massacre in Tamaulipas, writes Guillermoprieto, was seemingly purposeless: "From the traffickers' point of view, no practical end was achieved. The killers appear to have acted out of rage, on whim, or simply out of tedium or habit."
In response to the murders, Guillermoprieto has teamed with other writers as well as photographers and musicians to create an online memorial to the slain migrants. The project, 72migrantes.com, combines striking photography with essays that tell the stories—real, and in the case of unidentified victims, imagined—of those killed. Visitors to the site's "virtual altar" can download music and make a donation to Hermanos en el Camino, a church organization that provides food, shelter, and support to migrants and others who have been kidnapped or threatened by Mexican drug and human traffickers. (The site is in Spanish but plans to include some English translations soon.)
"I've been writing about the illegal drug trade and its dreadful social consequences for decades now, as the trade has traveled like a deadly virus around Latin America," Guillermoprieto told UChiBLOGo. But what is happening now is different "in degree and consequences," she says. "From Phoenix to Tegucigalpa, the traffickers in charge of supplying illegal drugs to the U.S. market have evolved into warring groups of mafias deeply embedded in their own societies' social and law-enforcement structures."
Increasingly, she explains, traffickers are feeding a local market of drug consumers, and branching out into human trade, from prostitution to the shipping and handling of undocumented migrants. "The desperate tragedy unfolding along both Mexican borders—where Central American migrants routinely are kidnapped, tortured, murdered—is what brought me to help put together 72migrantes.com," says Guillermoprieto.
On November 11 Alejandro Paez and Claudia Mendez, journalists who cover the drug war from Mexico, will join Guillermoprieto for a 6 p.m. talk sponsored by the Center for Latin American Studies, in 122 Social Sciences.
Katherine Muhlenkamp and Elizabeth Station
---
RELATED READING

November 9, 2010