May 2012

| Sun | Mon | Tue | Wed | Thu | Fri | Sat |
| --- | --- | --- | --- | --- | --- | --- |
| | | 1 | 2 | 3 | 4 | 5 |
| 6 | 7 | 8 | 9 | 10 | 11 | 12 |
| 13 | 14 | 15 | 16 | 17 | 18 | 19 |
| 20 | 21 | 22 | 23 | 24 | 25 | 26 |
| 27 | 28 | 29 | 30 | 31 | | |
---
CATEGORIES
---
RECENT ENTRIES
---
BLOG ROLL
The Dark Knight's UChicago origins
Forget Bruce Wayne. DC Comics storyteller Max Allan Collins reveals that Batman was actually Eliot Ness, AB'25.
I'll admit it. I'm guilty of judging books by their covers.
When I go to the thrift store to refresh my reading stash, I always pick up the ones with unusual or eye-catching artwork first. One recent find—the paperback comic book Batman: Scar of the Bat (2000)—made my must-buy pile because of its UChicago connection.
Part of DC Comics' Elseworlds series, in which "heroes are taken from their unusual settings and put into strange times and places," the Scar of the Bat story claims that law-enforcement agent Eliot Ness, AB'25—the legendary leader of the Untouchables who takes down Al Capone and his gang—is the real man behind Batman's mask. On the surface it reads like a comic's usual pulpy fun, but the one-page afterword by author Max Allan Collins is the best part. Collins describes the research he did to write as historically accurate a story as possible. My favorite detail is his aside claiming that Ness's opinion of Prohibition as a bad law was first published in Scar of the Bat.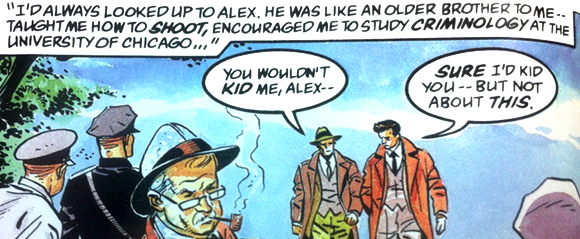 Don't take it from me. Read it for yourself—on us! Leave a comment on this blog entry with the UChicagoan you would like to see as a comic-book superhero in an Elseworld for your chance to win our gently used copy of Scar of the Bat.
The Magazine's editors will pick a winner from comments posted by 5 p.m. Monday, December 6. Good luck!
Joy Olivia Miller
November 23, 2010