May 2012

| Sun | Mon | Tue | Wed | Thu | Fri | Sat |
| --- | --- | --- | --- | --- | --- | --- |
| | | 1 | 2 | 3 | 4 | 5 |
| 6 | 7 | 8 | 9 | 10 | 11 | 12 |
| 13 | 14 | 15 | 16 | 17 | 18 | 19 |
| 20 | 21 | 22 | 23 | 24 | 25 | 26 |
| 27 | 28 | 29 | 30 | 31 | | |
---
CATEGORIES
---
RECENT ENTRIES
---
BLOG ROLL
UChicago Social: Every day is Halloween
Scenes from a young alumni Halloween party.
"Are you sure this is the right day?" Jason Pettus, the photographer, wants to know. "Are we in the right place?"
Uncharacteristically organized, I have a printout of the details.
Halloween Party
with Harvard, Columbia,
and MIT Alumni Associations

Evil Olive
1551 W. Division
October 28, 2010
7:30 p.m.

Costumes are encouraged.
But it's 7:28 p.m., and no UChicago alumni anywhere. Instead, we seem to have stumbled onto open studio night at some secret, liquor-fueled art school.
In the main room of the Evil Olive, 10 artists are sitting at long white tables—some drawing with markers or ink, others painting in acrylic. Nine more are sitting at regular tables in the back room.
All of the artists have their own clamp lamps, making the bar uncannily bright. As they finish, they pin their work up in a makeshift gallery, along with super-cheap price tags: $10, $25.
We are in the right place—Evil Olive double-booked the Halloween party with its regular Atomic Sketch event. Distracted by the artists, we'd walked right past Sahar Malik, Columbia '07, and Dona Le, Harvard '05, at the welcome table by the door. Malik and Le are ready with blank nametags and star-shaped stickers, a different color for each school: silver star for Chicago, blue for Columbia, red for Harvard ("like the Harvard crimson," Le explains), gold for MIT.
Slowly, the bar begins to fill with alumni. Some are easy enough to spot: there's a cowboy, a baseball player, a geisha, a Native American, the pope.
Others make categorization more challenging. There's a woman seemingly dressed like a gypsy, with bright scarves tied around her head and waist, and a short ruffly skirt. No, wait—I saw a skirt just like that at Urban Outfitters. That's just clothing. Then again—she's wearing a few too many big necklaces, and has a nametag. Alumna in a gypsy costume.
There's a man in '70s-era rock-star garb, complete with hippie hair and a Fu Manchu mustache, just like the guys from MIT-spawned supergroup Boston. What an awesome costume for an MIT alumnus! Except he isn't an alumnus. He's with the sketchers.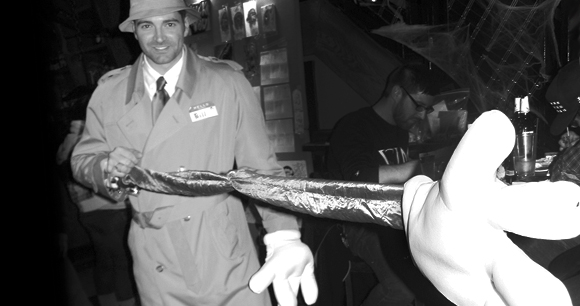 And then there's Inspector Gadget, aka Bill Fienup, one of the event organizers. As you would expect, he's from MIT.
In real life Fienup does not have an extendable hand, true. But as a kid, he says, he liked to make all kinds of gadgets. He now has a degree in mechanical engineering and makes a living doing top-secret product development: "I can't tell you about the products," he says, in response to my pointed questioning. "They're still in development."
Later, I discover that Fienup is the co-inventor of—no, I am not making this up—a condiment dispenser known by the charming appellation, "the catsup crapper." He even presented his gadget on the Martha Stewart Show.
So was he really in costume, or not? I'm thinking not.
Carrie Golus, AB'91, AM'93
Photos by Jason Pettus.
---
RELATED READING

November 5, 2010