May 2012

| Sun | Mon | Tue | Wed | Thu | Fri | Sat |
| --- | --- | --- | --- | --- | --- | --- |
| | | 1 | 2 | 3 | 4 | 5 |
| 6 | 7 | 8 | 9 | 10 | 11 | 12 |
| 13 | 14 | 15 | 16 | 17 | 18 | 19 |
| 20 | 21 | 22 | 23 | 24 | 25 | 26 |
| 27 | 28 | 29 | 30 | 31 | | |
---
CATEGORIES
---
RECENT ENTRIES
---
BLOG ROLL
A little light on the subject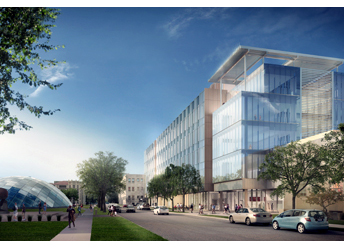 The innovative design of the $215 million Eckhardt Center will illuminate the science inside.
The discoveries that could emerge from the William Eckhardt Research Center after it opens in 2015 strain the imagination—at least the scientifically impaired imagination. Home to the University's new Institute for Molecular Engineering, and a central location for the Physical Sciences Division, the building will be a nexus for innovation. Whatever inconceivable forms it may take.
The form and function of the building—named in recognition of Eckhardt's (SM'70) $20 million gift to support advanced science—is easier to grasp. There is a futuristic sheen to the renderings unveiled December 13, but the design relies on a retro resource: natural light. A collaboration between the firm HOK and the artist, sculptor, and architect Jamie Carpenter—whose portfolio includes the Midway light bridges currently under construction—the plan "will draw light deep inside to illuminate laboratories and hallways."
Some of those illuminated labs will be below ground in spaces designed to limit vibrations and filter out contaminants. The seven-story, 265,000-square-foot building will have two basement levels. "One of the challenges is how to make the space feel light and connected to nature, given that so much of it is below grade," University architect Steve Wiesenthal said in the News Office announcement of the new building.
He went on to explain how the $215 million design answers that challenge: "Perforated metal fins connected to serrated glass facades on the east and west will capture and reflect light horizontally into the building throughout the day. Further, a louvered glass ceiling over the north lobby will serve as a light well, capturing and driving light vertically into the building."
Come to think of it, maybe the form and function of the building really aren't any easier to understand than the science itself.
Jason Kelly
December 15, 2010