May 2012

| Sun | Mon | Tue | Wed | Thu | Fri | Sat |
| --- | --- | --- | --- | --- | --- | --- |
| | | 1 | 2 | 3 | 4 | 5 |
| 6 | 7 | 8 | 9 | 10 | 11 | 12 |
| 13 | 14 | 15 | 16 | 17 | 18 | 19 |
| 20 | 21 | 22 | 23 | 24 | 25 | 26 |
| 27 | 28 | 29 | 30 | 31 | | |
---
CATEGORIES
---
RECENT ENTRIES
---
BLOG ROLL
Brand new start
A former English major steps into the indie-folk spotlight.
"I've always loved writing, and I've always written songs. But it took me a little while to get serious about doing it," says Haroula (Spyropoulos) Rose, AB'02, MAT'02. Her debut album, These Open Roads, features 11 original indie-folk compositions.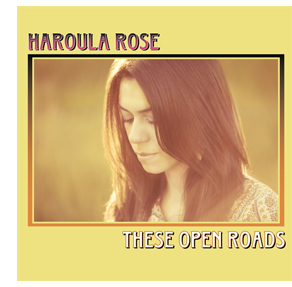 Recently named one of the top 100 unsigned artists by Music Connection magazine, Rose—who sings and plays guitar—released her album independently this month. Fans can download the songs on iTunes, Amazon, CDBaby, and Bandcamp and they can buy the record. Really?
"I'm a big nerd, so I'm also putting it out on vinyl," says Rose. "I like collecting records and listening to them, and I just think this kind of music lends itself to sounding better on vinyl [than it does digitally]."
But the digital versions of her tunes sound pretty good too. One spare but thoughtful track, "Brand New Start," is available as a free download. A Los Angeles Times review praised the songwriting chops that underlie Rose's gentle guitar playing and her "girlish but graceful" voice.
As a UChicago student, Rose sang with the a cappella group Unaccompanied Women and earned degrees in English and teaching. After graduation she landed a Fulbright to study in Spain and later headed to film school in Los Angeles, where she lives. She's working on several animated videos to go with her songs.
If you're in Los Angeles on Tuesday night, February 1, you can catch Rose's album release show at the Hotel Café, beginning at 8 p.m. Her artist residency continues there with performances on February 8 and 15 and March 1. Next up, Rose plans shows on the East Coast, in Chicago, and in Austin—balancing rehearsals, gigs, and writing with attending to the business side of her career.
Elizabeth Station
Images courtesy Haroula Rose.
January 27, 2011