May 2012

| Sun | Mon | Tue | Wed | Thu | Fri | Sat |
| --- | --- | --- | --- | --- | --- | --- |
| | | 1 | 2 | 3 | 4 | 5 |
| 6 | 7 | 8 | 9 | 10 | 11 | 12 |
| 13 | 14 | 15 | 16 | 17 | 18 | 19 |
| 20 | 21 | 22 | 23 | 24 | 25 | 26 |
| 27 | 28 | 29 | 30 | 31 | | |
---
CATEGORIES
---
RECENT ENTRIES
---
BLOG ROLL
Coffee, futon, art: done
A relaxing recline—and a little caffeine—brings a new perspective to Cascade.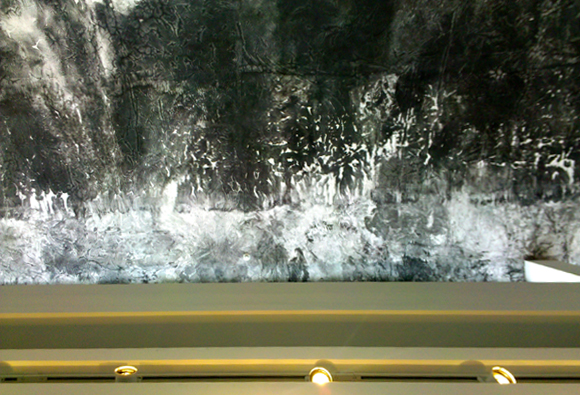 "Do people come in and lie on the futon a lot?" I asked the Smart Museum barista making my latte last Thursday morning.
"Oh yeah," he said, "all the time."
With that, my colleague and I took our warm drinks, reclined on the leather bench, and stared up at Cascade, the black and white, ink-on-rice-paper work covering the museum cafe's back wall. Although we had only ten minutes to stare up at the splotches and waves, the experience was, as I'd imagined in the University of Chicago Magazine's Jan–Feb/11 Editor's Notes, cathartic.
Amy Braverman Puma
View from below: the wall curves up into the ceiling, so the futon provides the perfect vantage point to relax and absorb the work; my coworker, coffee in hand, takes in Bingyi's enormous painting.
January 21, 2011