May 2012

| Sun | Mon | Tue | Wed | Thu | Fri | Sat |
| --- | --- | --- | --- | --- | --- | --- |
| | | 1 | 2 | 3 | 4 | 5 |
| 6 | 7 | 8 | 9 | 10 | 11 | 12 |
| 13 | 14 | 15 | 16 | 17 | 18 | 19 |
| 20 | 21 | 22 | 23 | 24 | 25 | 26 |
| 27 | 28 | 29 | 30 | 31 | | |
---
CATEGORIES
---
RECENT ENTRIES
---
BLOG ROLL
Revelations
Questions for MLK Day keynote speaker Judith Jamison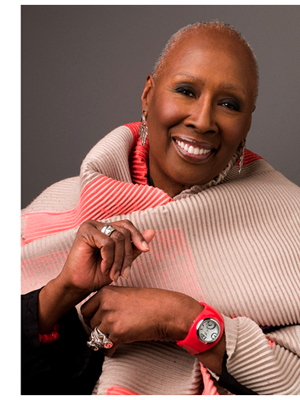 Judith Jamison, outgoing artistic director of Alvin Ailey American Dance Theater and one of the great dancers of the 20th century, became a star by embracing her identity at a time when there were few African American performers on stage. The 67-year-old dance legend was the keynote speaker at the University's Martin Luther King Jr. Commemoration Service last Friday at Rockefeller Memorial Chapel.
Jamison, whose aunt, Allie Brown, studied at UChicago in the 1930s, talked with UChiBLOGo about her connections to Chicago, her message for Martin Luther King Day, and the Alvin Ailey Barbie doll.
---
In your very first professional dance performance, in The Three Marys, you came to Chicago.
I danced at the Chicago Opera House. I had been discovered in a dance class in Philadelphia, and I ended up guesting with American Ballet Theatre. What was my experience? I don't know. I was in a fog. It's only in retrospect that I think, my goodness, my life has been totally amazing.
Have you ever been discriminated against because you're so tall [Jamison is 5'10"]? Female ballet dancers are usually much shorter.
I was always wondering why everyone else was so short. The teacher was always saying "Stretch, stretch, stretch longer." I was already there.
I've only auditioned once in my life, and I was so bad. Three days later, Alvin Ailey called me and asked me to join his company. So I have no experiences of that kind of rejection. I don't remember anyone telling me no. If they did tell me no, I didn't hear it.
What was it like, touring with the Alvin Ailey Company?
There were times when, after we performed, we were not able to get a meal. But any places that wanted us, we would go. That's why we've been around for 52 years, because we go to places that other dance companies won't. Alvin said to bring the dance to the people, and that's what we do.
Do you remember the day when King was killed?
We were performing at Lincoln University. Alvin had to make an announcement to the audience. There were a lot of tears.
How does it feel, being the keynote speaker for the MLK commemoration service? Is speaking similar to dancing in any way?
I'm honored. It keeps being explained to me that the speakers in years past were politicians, or judges, or activists in the Civil Rights era. Our activism was our dancing. Our activism was our bodies—to take the culture wherever we could.
Do you have any advice to the nation, in honor of MLK Day?
The president said it beautifully the other day: it's not about our differences, but about our similarities. See the humanness inside each other.
Any advice for young people?
Whatever you're doing, go for it 150,000 percent. Stick to it beyond what you think you can do.
I have to ask you about the Ailey Barbie doll. You designed that?
Yes. It commemorated the 50th anniversary of the company. She wears the costume for Revelations (a signature Ailey work). I wanted a dancer that was my color. Most dolls are very fair-skinned, but I wanted this one to have a rich complexion. I wanted her to have a full mouth and full nose. And I wanted her to have short hair. But they said little girls like to play with hair, so I had to add hair.
Carrie Golus, AB'91, AM'93
Photo by Andrew Eccles
January 25, 2011