May 2012

| Sun | Mon | Tue | Wed | Thu | Fri | Sat |
| --- | --- | --- | --- | --- | --- | --- |
| | | 1 | 2 | 3 | 4 | 5 |
| 6 | 7 | 8 | 9 | 10 | 11 | 12 |
| 13 | 14 | 15 | 16 | 17 | 18 | 19 |
| 20 | 21 | 22 | 23 | 24 | 25 | 26 |
| 27 | 28 | 29 | 30 | 31 | | |
---
CATEGORIES
---
RECENT ENTRIES
---
BLOG ROLL
Dumped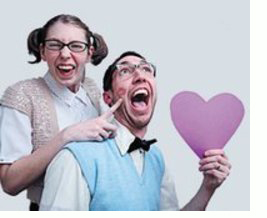 This is the story of an affair that never happened.
Last Thursday Rebecca Steinmetz, AM'09, was scheduled to give a workshop, Flirting for Nerds, at Ida Noyes Hall. Steinmetz, who earned a degree in gender studies from DePaul before studying social work at UChicago, is an educator and therapist specializing in relationship, sex, and gender issues.
I had been looking forward to the workshop for weeks. For the blog, I thought I might craft lists of what nerds should and shouldn't do. I imagined a service journalism-type headline: "Five things you should never do if you're looking for love!"
Then came the Snowpocalypse. More than 20 inches of snow were dumped on the city. The University canceled classes on Wednesday, and then again on Thursday.
In the morning I e-mailed Steinmetz. "Even though Flirting for Nerds is canceled tonight, I'd still like to interview you and write a blog about it," I wrote. "Do you have any time to talk on the phone today? Thanks!"
It was a cheery message, I thought. Direct, but friendly.
She did not respond.
Was it the exclamation point? Was that too much?
I left her alone over the weekend. I stayed busy—went out with a friend on Saturday, gave myself a pedicure, got some things done around the house.
On Monday, I e-mailed her again. "Just following up on my e-mail message from last week… Any chance we could do an interview tomorrow morning? Or tonight, if tomorrow morning doesn't work?"
It sounded desperate, I realize now. I made myself too available.
Once again, she didn't respond.
I know, I know. It was my fault. I drove her away.
And now Valentine's Day is less than a week away. I have no attention-grabbing headline. No lists of secret knowledge to impart. No greater understanding of how to connect with other human beings.
I, along with all the other nerds of UChicago, have been left out in the cold.
Carrie Golus, AB'91, AM'93
Note: Steimetz will be on campus next Thursday for the rescheduled workshop. For more details, see the ORSCA Facebook page for the event.
February 10, 2011