May 2012

| Sun | Mon | Tue | Wed | Thu | Fri | Sat |
| --- | --- | --- | --- | --- | --- | --- |
| | | 1 | 2 | 3 | 4 | 5 |
| 6 | 7 | 8 | 9 | 10 | 11 | 12 |
| 13 | 14 | 15 | 16 | 17 | 18 | 19 |
| 20 | 21 | 22 | 23 | 24 | 25 | 26 |
| 27 | 28 | 29 | 30 | 31 | | |
---
CATEGORIES
---
RECENT ENTRIES
---
BLOG ROLL
Sotomayor holds court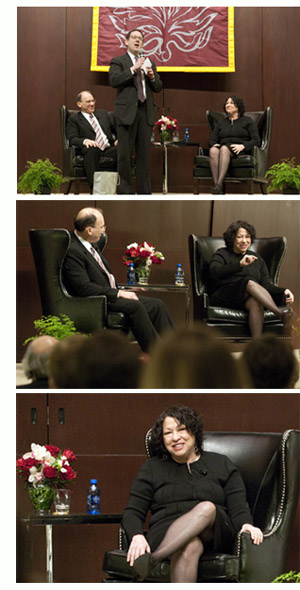 Supreme Court Justice Sonia Sotomayor visits the Law School.
On a break from the Supreme Court's busy docket, Justice Sonia Sotomayor came to the Law School last Monday to speak to students, lunch with professors, and teach a class.
The court's second newest justice gave a surprisingly in-depth glimpse into her decision-making process and her short career on the bench, sharing anecdotes that were funny or poignant and sounded like good advice for the hundred or so students in attendance at the Glen A. Lloyd Auditorium.
During her hour-long conversation with moderator David Strauss, a constitutional-law professor who has argued 18 cases before the Supreme Court, Sotomayor discussed her first day as a district court judge in 1992, in the Southern District of New York. "My knees were knocking. Have you ever had your knees knock so you can hear them? Mine were."
She also shared what guides her decisions on the nation's highest court, a tidbit that garnered attention for its insight into the Judge's mindset. Sotomayor said she tries to be flexible making her decisions, balancing legislative history, briefs, oral arguments, and her colleagues' opinions.
Law students took away some life lessons:
When you're arguing before the Supreme Court, Sotomayor said, "it's not [the place] for lawyers to be Clarence Darrow and to swing a jury," she said. Make your case in writing, and prepare good answers for justices' questions at the hearing.
Keep your integrity as a lawyer, because judges have long memories.
And if you want to clerk for Justice Sotomayor, be passionate about one thing, not capable at everything. "I don't look at the kid who has a thousand things on their list," she said.
Unlike the newest justice, Elena Kagan, Sotomayor has no direct relationship with the Law School or the University of Chicago, although Dean of the Law School Michael Schill mentioned in introducing her that she once worked for a law firm run by the father of Law School professor Bernard Harcourt. At the end of the talk, Schill presented Sotomayor with a UChicago Law School softball sweatshirt, complete with her name emblazoned on the back.
After her conversation with Strauss, she took questions from the audience. One student asked her to tell a story about a personal failure, reasoning that great people were often motivated by some momentary lapse. The question invited laughter from the audience and from Strauss as Sotomayor sighed, gazing offstage for comic effect.
"It is so unbelievably difficult to answer that question," she said, "for the following reason: I have spent most of my life...running to make sure I don't fall down, and when I do I pick myself up and keep running. Everything I've undertaken, I've had my knees knocking and my stomach churning.
"I can't tell you how difficult my first year on the district court bench was," she continued, because she had to combat her fears as well as absorb tons of new information. She recalled "having a lawyer tell me after I ruled on a case, 'I've been a practicing lawyer for 39 years, and I've never seen a judge do that!'"
The comment worried her until a colleague told Sotomayor, "'You should have told him you don't follow the mistakes of other people,'" which drew more laughs. "That's a little quick for me, but it did teach me a lesson about not jumping too quickly to criticize myself."
Asher Klein, '11
February 7, 2011