May 2012

| Sun | Mon | Tue | Wed | Thu | Fri | Sat |
| --- | --- | --- | --- | --- | --- | --- |
| | | 1 | 2 | 3 | 4 | 5 |
| 6 | 7 | 8 | 9 | 10 | 11 | 12 |
| 13 | 14 | 15 | 16 | 17 | 18 | 19 |
| 20 | 21 | 22 | 23 | 24 | 25 | 26 |
| 27 | 28 | 29 | 30 | 31 | | |
---
CATEGORIES
---
RECENT ENTRIES
---
BLOG ROLL
A room with a view
Sunsets, fireworks, Obama on the Midway—you can see it all from the top of UChicago's newest residence hall.
By Elizabeth Station
---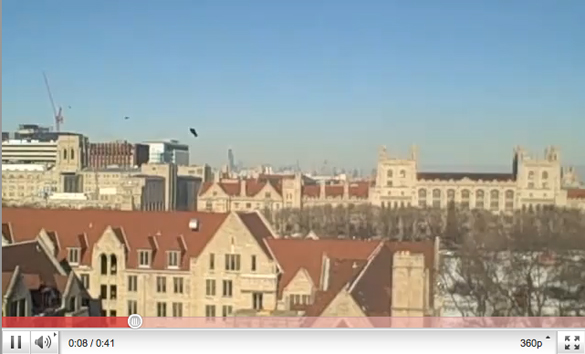 Just over a year ago, when the South Campus Residence Hall opened, campus officials touted the building's amenities: sunny study lounges, a floor plan that encourages social life—and spectacular vistas of the campus, city, and lakefront for residents whose seniority earned them first dibs on "goal rooms" in the House lottery.
Meg Bowie, '13, shares a top floor apartment with three others. "It's just incredible to hang out in here," she says. "You can see all sorts of stuff—people ice skating, walking around, people you recognize down there. And the skyline is obviously nice."
On fall evenings, Bowie and her roommates glimpsed fireworks in the distance over Navy Pier. When the Math-Stat building caught fire, they had a bird's-eye view. When President Obama campaigned on the Midway last November, they watched the set-up before descending to attend the rally.
How did a second-year score such prime real estate? It helped to know a rising fourth-year. Justin Yeh, '11, got the top lottery pick and pulled in Bowie, along with roommates Matt Phillips and Mark Santana, both '13. Goal-room occupants don't have squatters' rights, so their room assignments for next year will depend on the luck of the draw.
The only downside to living up-market is that the view may be a little too nice. "Since we have this cool space, sometimes people will come by and want to hang out," says Bowie. "It's hard to get your work done."
March 15, 2011