May 2012

| Sun | Mon | Tue | Wed | Thu | Fri | Sat |
| --- | --- | --- | --- | --- | --- | --- |
| | | 1 | 2 | 3 | 4 | 5 |
| 6 | 7 | 8 | 9 | 10 | 11 | 12 |
| 13 | 14 | 15 | 16 | 17 | 18 | 19 |
| 20 | 21 | 22 | 23 | 24 | 25 | 26 |
| 27 | 28 | 29 | 30 | 31 | | |
---
CATEGORIES
---
RECENT ENTRIES
---
BLOG ROLL
The smartest stylist in Chicago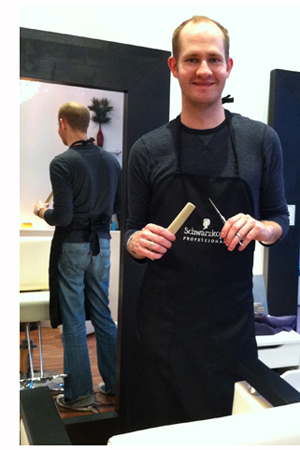 Not unlike the editor he planned to become, Jason Berg spends his days trimming and adding color.
Soon after I walk into Salon Fete in Lincoln Park, Jason Berg, AB'04, sits me in his chair. We talk highlights (let's go warmer, we decide), cut (we won't go too short), and style (I straighten my hair, so he'll dry and flat-iron it before pulling out the scissors). A few minutes later he's wrapping my hair in foil, segment by painstaking segment.
Berg, who earned his cosmetology certificate in 2006 and finished a high-end training program in 2007, graduated college thinking he'd use his English degree to go into editing or publishing. "But those jobs weren't happening," he said, so he considered beauty school, picking up on a hobby he'd nurtured since childhood. Growing up in Denver as one of seven kids, he'd practiced on his sisters' hair, and in college he did his own and his friends' 'dos.
Now he rents a chair at the salon, where his services are not cheap but his skill is evident. I walk out of the salon 2.5 hours later, pretty sure I like it. A few days later my dentist, of all people, confirms it's a winner. She's been admiring my hair color since I walked in, she says. "Who did it?" I happily hand her Berg's card.
Berg's style sense goes beyond hair: on his blog he covers hairdos as well as music and pop culture (even with his U of C friends who come in for hair appointments, he doesn't talk Thucydides: "People want to relax," he says). And he's hip enough to have made the Time Out Chicago Singles issue. Hair might not be what he originally had in mind, but by now he seems to have wrapped his head around it.
Amy Braverman Puma
Jason Berg shows off his tools at Salon Fete.
March 1, 2011