May 2012

| Sun | Mon | Tue | Wed | Thu | Fri | Sat |
| --- | --- | --- | --- | --- | --- | --- |
| | | 1 | 2 | 3 | 4 | 5 |
| 6 | 7 | 8 | 9 | 10 | 11 | 12 |
| 13 | 14 | 15 | 16 | 17 | 18 | 19 |
| 20 | 21 | 22 | 23 | 24 | 25 | 26 |
| 27 | 28 | 29 | 30 | 31 | | |
---
CATEGORIES
---
RECENT ENTRIES
---
BLOG ROLL
A basketball coach walks into a gym…
Craig Robinson's Oregon State players prove that imitation is the sincerest form of flattery
By Lydialyle Gibson
---
From the moment Oregon State basketball coach Craig Robinson arrives, his players know what kind of a practice to expect. If he's not carrying a cup of coffee, they can't joke around with him. If he's scowling—"like this," said senior forward Omari Johnson, twisting his face downward, narrowing his eyes to tiny slits—they don't even talk to him.
"You have to watch how he smiles around here," said Johnson. And whether he does.
Johnson and two teammates were describing life under Robinson, MBA'91, who just wrapped up his third season at Oregon State. I'd watched Robinson push his players through three days of practice to prepare for their January 2 game against Arizona. Sometimes he thundered at them; sometimes he almost whispered. Mostly, there was a lot of yelling.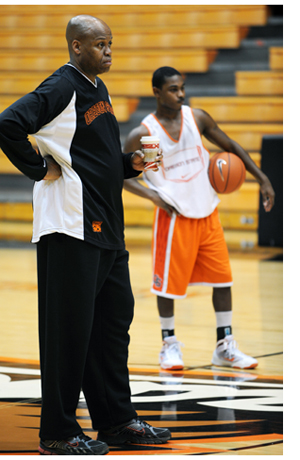 So after practice one afternoon, I took aside a few players, who've become keen scholars of their coach's body language, and asked them: on days when Robinson is in a good mood, how does he walk into the gym?
Immediately, Johnson bounded up and strode across the court, eyes wide, chest out, arms loose, leaning forward eagerly as he pretended to carry a cup of coffee. Teammate Angus Brandt narrated: "See the smile? And the arms are swinging."
And Robinson's bad-mood walk?
"If he's twitching, you've gotta watch out," Brandt said.
Johnson turned and stalked back toward the bench, frowning hard, snatching at his jersey, his arms tight at his sides.
"No arms," Brandt said.
"He doesn't have a shave," chimed in point guard Jared Cunningham.
"His mouth is about this big," Brandt added, pressing his fingers together.
"His eyes are going back and forth," said Johnson.
"And," Brandt said, "no coffee."
Coach Craig Robinson, in a better mood than he might be without his coffee. To his left, freshman guard Ahmad Starks, whose pose mirroring the coach isn't an imitation. Photo by Dan Dry.
April 1, 2011