May 2012

| Sun | Mon | Tue | Wed | Thu | Fri | Sat |
| --- | --- | --- | --- | --- | --- | --- |
| | | 1 | 2 | 3 | 4 | 5 |
| 6 | 7 | 8 | 9 | 10 | 11 | 12 |
| 13 | 14 | 15 | 16 | 17 | 18 | 19 |
| 20 | 21 | 22 | 23 | 24 | 25 | 26 |
| 27 | 28 | 29 | 30 | 31 | | |
---
CATEGORIES
---
RECENT ENTRIES
---
BLOG ROLL
Straight talk
Journalist Ted Cox disguised himself as a gay man at meetings and retreats that aimed to "cure" homosexuality.
By Michelle Lee, '14
---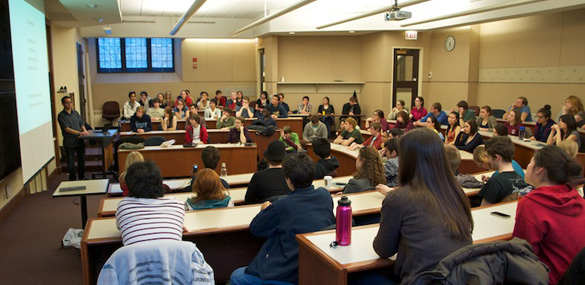 Can you turn a gay person straight? Perhaps more importantly, is it ethical to try?
Those were the questions underlying journalist Ted Cox's lecture last month about his experience going undercover at Christian straight camps. A straight Mormon-turned-atheist, Cox disguised himself as a gay man and, for two years, attended various meetings and retreats that aimed to "cure" homosexuality—that is, turn gay people straight. What Cox discovered was a distorted world of brainwashing, electroshock therapy, and "healing-touch" sessions.
Cox's lecture, hosted by the University of Chicago Secular Student Alliance, Queers & Associates, The Sacred Flame, and Student Government, was a multimedia presentation involving music, video clips, and audience participation. At one point, to demonstrate an aversion-therapy technique camp participants were taught to overcome their homosexuality, students were instructed to snap rubber bands they had been given beforehand against their arms.
Cox revealed that camp participants were also taught that their homosexuality stemmed from strained father-son relationships—dubbed "The Father Wound"—and other dysfunctional relations. If campers never had such problems, they were convinced otherwise.
The "healing-touch" therapy sessions were purported to fill the supposed void of fatherly love. At Cox's Chicago lecture, several male students were selected from the audience to reenact this therapy. One sat between the legs of and was hugged by another while the others gently rested their hands on his body. Meanwhile, music that had been played at actual therapy sessions filtered through the room: "How could anyone ever tell you/That you're anything less than beautiful?/How could anyone ever tell you/That you're less than whole?"
Cox ultimately demonstrated how the tactics of straight-to-gay rehabilitation programs are ineffective at best and, at worst, inflict mental and physical pain on gay people. He further revealed what he suggested was hypocrisy underlying Christian straight-to-gay rehabilitation programs. Many of the founders were discovered to be gay themselves; one was discovered to be an ex-convict. The Christian organizations were also found to be reproducing the letterheads and pamphlets of scientific societies, but replacing the professional counsel with their own in an attempt to mislead educators and prompt them to rehabilitate gay children.
The lecture was solemn yet entertaining, alternating between moving narratives, photographic examples, and comedic asides. It also seems to have provoked an ongoing discussion among University students, as evidenced by the number that stayed afterward to ask questions and continue the conversation.
April 11, 2011