May 2012

| Sun | Mon | Tue | Wed | Thu | Fri | Sat |
| --- | --- | --- | --- | --- | --- | --- |
| | | 1 | 2 | 3 | 4 | 5 |
| 6 | 7 | 8 | 9 | 10 | 11 | 12 |
| 13 | 14 | 15 | 16 | 17 | 18 | 19 |
| 20 | 21 | 22 | 23 | 24 | 25 | 26 |
| 27 | 28 | 29 | 30 | 31 | | |
---
CATEGORIES
---
RECENT ENTRIES
---
BLOG ROLL
Q&A with the bassist of Squat the Condos
Alan Mendelsohn, '12, talks to UChiBLOGo about college life as a rocker.
By Asher Klein, '11
---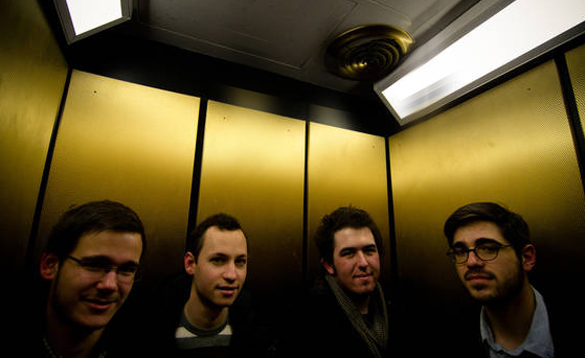 One of a few University of Chicago bands currently playing on campus, Squat the Condos is very excited for you to hear their second EP, We Should Be Together, which they've put online for download.
The line-up is Coby Ashpis, '13, guitar and vocals; David Crespo, '12, guitar; Etan Heller, '13, drums; and Alan Mendelsohn, '12, bass. They've been playing for a year-and-a-half, since they formed in the basement of Max Palevsky, and claim that no other band plays as many shows in Hyde Park as they do—from house parties to official University events, like a Green Campus Initiative's "No Trash Bash."
UChiBLOGo sat down with Mendelsohn to find out what it's like to be in a UChicago band, how they balance school and music, and where their name comes from.
---
How did you guys find each other?
Me and David were suite-mates our freshman year, so the University found us.
How would you describe your sound?
We always say on our description, "fresh and dynamic," but it is kind of like that. It's kind of like power-pop. It's hard to classify genre-wise; it's always dangerous to do that. We have kind of a fun, energetic, lively sound. ... I was thinking about this recently, and bands just have a sound. It comes naturally. I can't think of a band that I listen to that doesn't have their own sound, like the Strokes have that Strokes sound, the White Stripes have their sound. Coby writes the songs, and he's a really distinct and good songwriter ... and everyone in the band puts their own two cents in.
Do you have any inspirations?
We usually say the Pixies, early Weezer. We like the Flaming Lips a lot.
When did you first start playing shows?
We practiced for the first couple of months [in Fall 2009] to try to get a set in order to play. We started to play shows by winter quarter, I think, infrequently. We played a house party at [fraternity] AEII once, I think we played a birthday party or something. A couple things here and there, and then we played the Battle of the Bands in the spring, some other shows in the spring. At some point we played off campus. We played at Cal's Bar.
How do you guys balance schoolwork and music? Is it tough?
Everyone at UChicago has to devote most of their time to doing their schoolwork, so Monday through Thursday we're generally working. Friday night is usually when we practice. Sometimes we'll have a show one of those nights, and we'll practice sometime during the week to prepare for that. One practice a week for a couple of hours is not really that much. Recording was a little bit more time. It's a sizeable time commitment, but now that we have our 15-song set list and we know our songs, it's not an ongoing time commitment, now it's just fun. We get to play.
Where'd you play April 15-17?
We played at the Pepperland [an apartment building on 57th and Harper], which is one of our favorite shows yet. Every time we get invited to play a show, we look at the Facebook event and there'll be 300 people attending and we'll say, "Aw yeah, this'll be our best show yet!" And there's no one there. ... [At the Pepperland] Coby had this brilliant idea to run this surge protector and strip through a [basement] window and into another surge protector—essentially an extension cord. So we set up all of our stuff out in the courtyard, and there's 150 people surrounding us. There's no stage, just us. ... I think live bands should be more a part of parties.
Where did your name come from?
We were struggling so hard to come up with a name second year. There was a long time where we were not named, and it just got to a point where it was ridiculous. We wanted to be serious, we needed a name. Finally, Coby saw graffitied somewhere, "Squat the condos." Originally when you Googled it, there's some kind of anarchist rap artist in Chicago named Squat the Condos. You can find it, but I've never listened to it. (It's the name of NY rapper Propaganda Anonymous's album. —Ed.)
You mentioned being serious about the band. How do you do that here?
That is tough. We try to play as many shows as we can. We recorded our EP at the beginning of the year. We wanted to get good recordings of all our stuff. ... We spent like three full days on it. That was A Ghoul since Lollipop EP, but it didn't really do much. We weren't happy about it. This year we had all these songs, and we wanted to do a more serious recording. We were going to do it ourselves, but all of a sudden we got an e-mail from Eric Mayer of Lakesigns. They have a house in Pilsen where three of them live, and in the basement, they have a recording studio setup with an 8-track cassette recorder and a huge mixing table, all stuff they bought on eBay. It was pretty fantastic. ... That's what we did all of last quarter. We basically played no shows—only two or three—and we recorded every weekend. We'd go up to Pilsen every day, and Friday night. It was a freezing basement. It was us, Eric Mayer, and his dog.
How do you guys plan to make it get big?
That's the problem. Putting out the EP and then sending it out to everyone we possible can. ... At the same time, it's been pretty successful, in terms of being able to play shows on campus. It's a lot of fun. We didn't really start it to become famous, and we're all working on getting internships and applying to law school. If something were to happen between now and when we graduate that made it seem like it would be worth investing more time into it, then we would do that.
Catch Squat the Condos Saturday at 3:30 p.m. on Bartlett Quad for a campus battle of the bands, and at the Elbo Room on May 4 for a city-wide battle.
Squat the Condos squatting an elevator.
Photo courtesy of Squat the Condos.
May 3, 2011