May 2012

| Sun | Mon | Tue | Wed | Thu | Fri | Sat |
| --- | --- | --- | --- | --- | --- | --- |
| | | 1 | 2 | 3 | 4 | 5 |
| 6 | 7 | 8 | 9 | 10 | 11 | 12 |
| 13 | 14 | 15 | 16 | 17 | 18 | 19 |
| 20 | 21 | 22 | 23 | 24 | 25 | 26 |
| 27 | 28 | 29 | 30 | 31 | | |
---
CATEGORIES
---
RECENT ENTRIES
---
BLOG ROLL
Rated R for nonviolence
A new documentary on the Freedom Rides, set to air May 16 on PBS, makes its Chicago debut at the DuSable Museum
By Lydialyle Gibson
---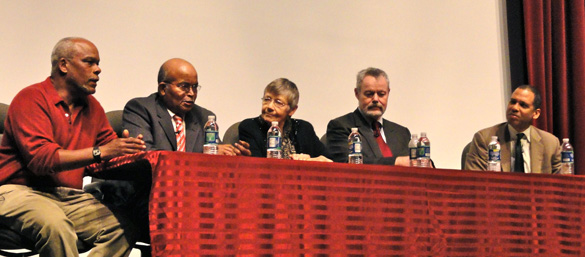 It was just a few minutes before showtime when I arrived at the DuSable Museum's cavernous auditorium on a Saturday afternoon last month. The museum was screening a new documentary, Freedom Riders, about the hundreds of young activists who boarded southbound buses in 1961 to challenge segregation in interstate transit and met with violence along the way. The place was packed, but I found a seat up front next to an African American woman and her son, who was perhaps 7 or 8 years old. "Now, be still," she told him as the lights darkened. "Pay attention."
He did. His eyes were wide as saucers when the Freedom Riders' bus was burned near Anniston, Alabama; when they were attacked at a bus station in Montgomery and the police stood by; when the Freedom Riders were sent to prison in droves at Mississippi's infamous Parchman Farm.
The documentary, which airs May 16 on PBS's American Experience, follows civil-rights activists' path into the Deep South aboard Greyhound and Trailways buses. (Chicago alumna Carol Ruth Silver, AB'60, JD'64, was among them.) The film doesn't shrink from the breathtaking savagery of the racism they faced. More than once, the DuSable Museum's audience recoiled or gasped or shook their heads in unison.
After the film, University of Chicago historian Adam Green moderated a Q&A with director Stanley Nelson and three of the Freedom Riders: Thomas Armstrong, Genevieve Hughes Houghton, and Dan Stevens. They talked about their earliest awakenings to racial prejudice and the experiences that motivated them to activism. "Any individual can do good," Stevens said. "I'm not anybody special."
They talked about school-age bullying, economic inequality, and how the recent nonviolent uprisings in Egypt and Tunisia mirrored 1960s civil-rights struggles. "Once again you see the power people have to make change," Nelson said. Stevens called nonviolence a tool that Americans should redeploy for social justice. "I don't think nonviolence abandoned us; I think we abandoned nonviolence," he said. "And I think once again we're going to need it."
"Being raised up in Mississippi," added Armstrong, who helped register black voters there between 1958 and 1961, "it made absolutely no sense to use violence. Because it meant you were dead the next day. Nonviolence to me was not a tactic; it was a way of life. If you stepped beyond those boundaries for blacks at that time, there were consequences."
Toward the end of the Q&A, Nelson started talking about his children, and about the importance of helping them understand their own history. "We have to figure out how to talk to our kids," Nelson told listeners. "One thing that happens, especially with African Americans, is that we want to shield our kids from the racism in this country, but then when they get old enough, it's too late." They don't want to hear about history.
"Uh-huh," chimed more than one audience member. "That's right."
"And also," Nelson continued, "we have to say, 'It's up to you all now.' All revolutions are made by young people. They just are."
The final question of the afternoon came from a young boy, perhaps 12 years old, at the back of the auditorium. Standing on his toes to reach the microphone, he asked: "Did you guys ever lose hope, or ever think of giving up?"
There was a pause. Then Armstrong said, "Yes. Progress is not as fast as you wish it to be, and you can become disenchanted about it. But in Mississippi, we opened up a closed society, a closed education system, and a closed political system."
Added Stevens: "Hope never gave up on us."
After the screening, director Stanley Nelson and Freedom Riders Thomas Armstrong, Genevieve Hughes Houghton, and Dan Stevens (left to right) take questions from the audience and from U of C historian Adam Green.
May 6, 2011