May 2012

| Sun | Mon | Tue | Wed | Thu | Fri | Sat |
| --- | --- | --- | --- | --- | --- | --- |
| | | 1 | 2 | 3 | 4 | 5 |
| 6 | 7 | 8 | 9 | 10 | 11 | 12 |
| 13 | 14 | 15 | 16 | 17 | 18 | 19 |
| 20 | 21 | 22 | 23 | 24 | 25 | 26 |
| 27 | 28 | 29 | 30 | 31 | | |
---
CATEGORIES
---
RECENT ENTRIES
---
BLOG ROLL
What a circus
Chicago arts supporters stepped right up for a night of female-produced entertainment.
By Katherine Muhlenkamp
---
On a rainy April evening in Humboldt Park, I arrived at the Kimball Arts Center for the annual Ag47 arts showcase. An arts-mentorship program founded last spring by Virginia Killian Lund, AB'04, Katie Hottinger, AB'05, and Cara Clifford, AB'07, along with five other local women, Ag47 sponsors art workshops for Logan Square girls ages 11 to 16.
In addition to improv sketches and other live entertainment, the circus-themed showcase featured artwork by the women and girls of Ag47, including colorful paper-mâché animal masks, an exhibit of assorted "healing potions" in a wooden medicine cabinet, and postcard collages described in the Winter 2011 Core. All the art was for sale, and I snagged a marvelous mixed-media portrait of a half-zebra, half-woman. "Ugh, I wanted that one," someone groaned from behind.
Gloating over my acquisition, I hustled off and caught a few scenes from the event: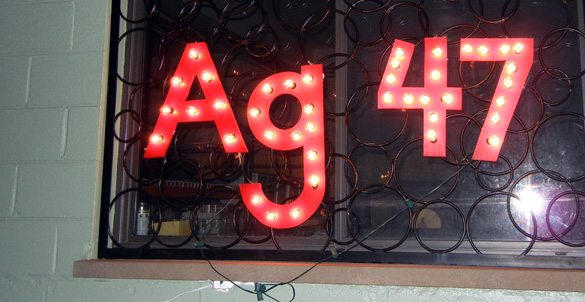 The most popular "circus booth" was Poetry Kapow! Participants shared facts about their lives, which the Ag47 scribes used to create personalized poems.
A visitor contemplates the postcard collages, created out of red and yellow tissue paper and black-and-white images of circus animals and performers. On one collage an elephant sported a long, rolled-up piece of gold paper extending from his trunk and small paper flowers tucked behind his ears.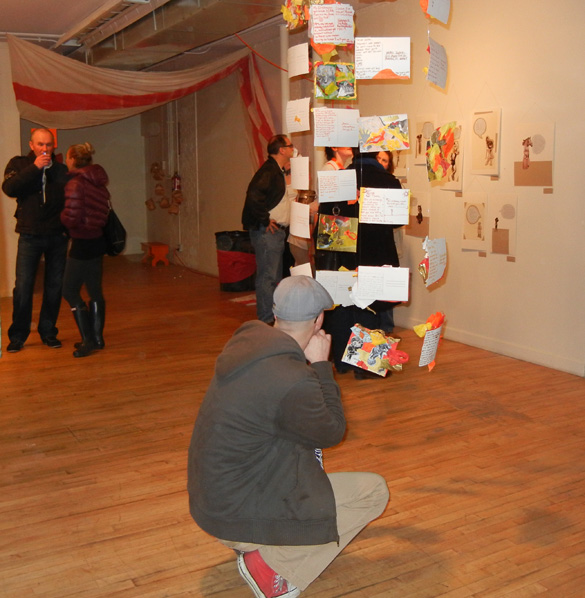 Paper-mâché animal masks lined the wall.
May 19, 2011