May 2012

| Sun | Mon | Tue | Wed | Thu | Fri | Sat |
| --- | --- | --- | --- | --- | --- | --- |
| | | 1 | 2 | 3 | 4 | 5 |
| 6 | 7 | 8 | 9 | 10 | 11 | 12 |
| 13 | 14 | 15 | 16 | 17 | 18 | 19 |
| 20 | 21 | 22 | 23 | 24 | 25 | 26 |
| 27 | 28 | 29 | 30 | 31 | | |
---
CATEGORIES
---
RECENT ENTRIES
---
BLOG ROLL
Parade of inclusiveness
Oversized crowds and outrageous conduct make for a gay day indeed.
By Mitchell Kohles, '12
---
I was stuck between two girls dressed up as fairies, then in the process of applying even more glitter to their costumes, when a canon full of rainbow-colored confetti exploded to my left. Ten minutes later, two men in feather boas and tight leather shorts tried to sell me something called "ghetto shots" on the corner of Halsted and Addison. Suddenly I was covered in glitter, confetti, and a purple necklace complementing the Franzia stain on my pink linen button-up. It was Sunday afternoon, and Chicago Pride was in full swing and sashay.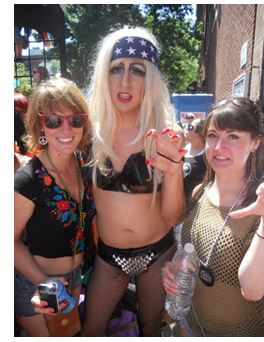 I had no experience with Pride before this weekend—to me the scene resembled a music festival more than a parade. Throughout the afternoon, the "no coolers" rule was ignored by both parade-goers and law enforcement. Whenever I looked up, I saw multicolored beads flying through the air; along with the much-valued free condoms, the necklaces were launched from the floats to pinwheel parabolically down onto the glitter-soaked crowd. I also learned that "pasty" isn't just an adjective or a meat pie.
Before the event started, people had packed themselves between storefronts and barricades for a full six blocks, between Belmont and Addison. I only managed to navigate along Halsted, but the parade route weaved around Boystown for more than 30 blocks before ending at Diversey and Sheridan.
What I found so incredible about the parade is the inclusiveness. Pride encourages expression and refuses to insult. Everywhere I went there was an atmosphere of joviality and tolerance that tempered what looked like neon-hued chaos. "It's actually a great day for me too," said a police officer after the parade, then supervising the massive clean-up operation on Broadway Avenue. "Even with all the alcohol, no one is starting fights or causing trouble. They're all just in a good mood."
Of course, that inclusiveness goes both ways, and I was surprised to see more familiar parade entries: retired servicemen driving classic cars, smiling children walking and waving with their parents, politician-sponsored floats—Mayor Rahm Emanuel, for example, led the parade, moving quickly to shake as many hands as possible.
I certainly expected outlandish and colorful, but it was also nice to see the mundane side of Pride. But maybe what made Pride seem almost grown-up was the combination of the ordinary and the outrageous. It wasn't just a bunch of drag queens and leather daddies—it was a community event.
July 5, 2011