May 2012

| Sun | Mon | Tue | Wed | Thu | Fri | Sat |
| --- | --- | --- | --- | --- | --- | --- |
| | | 1 | 2 | 3 | 4 | 5 |
| 6 | 7 | 8 | 9 | 10 | 11 | 12 |
| 13 | 14 | 15 | 16 | 17 | 18 | 19 |
| 20 | 21 | 22 | 23 | 24 | 25 | 26 |
| 27 | 28 | 29 | 30 | 31 | | |
---
CATEGORIES
---
RECENT ENTRIES
---
BLOG ROLL
I've got a twin in Kalamazoo
Author Bonnie Jo Campbell, AB'84, may be my alter-ego.
By Christina Pillsbury, '13
---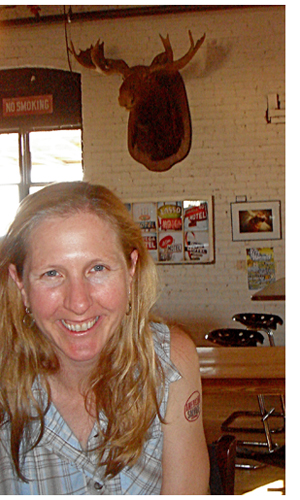 A couple of months ago, I happened upon a poem called "You Could Live at Meijer's." Based on the title alone, I knew I would love the author of this deeply personal piece of literature. The poem taps into the emotions that come up while shopping at the Midwest chain of hypermarkets, which I grew up with back home in Michigan. Meijer is part department store, part grocery store, part pure magic. In fact, if you have not been to one, stop reading this and go find one right now. Fittingly, the last line of the poem reads, "You could die at Meijer's, they would put all of your groceries back on the shelves."
Then I found out that the author, Bonnie Jo Campbell, AB'84, grew up in my hometown, Kalamazoo, that, like me, she attended the U of C, and that, like me, she is, of course, a writer. Granted, she's a National Book Award finalist and a Guggenheim fellow, and I'm a Magazine intern, but that's beside the point.
I had to meet her to see if she might be my doppelgänger. Campbell agreed to meet me at the Old Dog Tavern in Kalamazoo, a bar that she frequents when she's not on book tour or playing with her donkeys.
I tend to hold successful novelists on pedestals, so I was surprised when Campbell strolled in wearing jeans, and even more surprised when she bought me a drink, she said she did so I would like her. That same day the New York Times had praised her newest book, Once Upon a River, as "an excellent American parable"—a book I loved so much that I would have looked up to her even if she had not provided me with gin.
When I asked about her 2009 collection of short stories, American Salvage, she offhandedly said, "I actually just won a Guggenheim, which I thought they just awarded to intellectual smarty pants, but apparently they include people like me too."
Of course, her accomplishments contradict this—along with her philosophy degree from the U of C—but she must be the least pretentious intellectual smarty pants I've ever met; her life goal is to have a book sold at Meijer's. "I always study the books they have there and I think, 'What do all of these books have in common? How could I get my book there? There's Nicholas Sparks, but then Devil in the White City is there, and that's kind of edgy, so maybe I do have a chance."
Once Upon a River is, in fact, edgy for a coming-of-age tale. The book opens with a scene in which the protagonist, Margo, is raped by an uncle and later is complicit in her father's murder. She takes off down the river with her late grandfather's boat, her shotgun, and few other resources. The story is part Huck Finn (although any time you put a teen on a river this reference pops up), part Annie Oakley, but with more violent and erotic scenes. It may be too racy for Meijer, but the Michigan setting might make her dream come true.
Campbell doesn't make a fuss when she talks about her life's crazy adventures. As if every farm girl has traipsed around the world via bike, hitchhiking, and a circus train.
One of her first hitchhiking experiences led to a summer serving snow cones with Barnum and Bailey. After her second year at the U of C, Campbell was hitchhiking with her boyfriend to Los Angeles. But the circus was in Phoenix, and she joined on a whim. One of her stories about that summer, "The Smallest Man in the World" won a Pushcart Prize.
Before we parted, I asked her if we are in fact the same person. To my excitement, she said, "Yes." We have similar tastes in literature; we eat the same food; her grandfather was instrumental in the construction of my high school; we both have an extremely low tolerance for alcohol; and most importantly, we could both live and die at Meijer.
I hope this means my next career move will somehow involve Barnum and Bailey.
August 12, 2011