May 2012

| Sun | Mon | Tue | Wed | Thu | Fri | Sat |
| --- | --- | --- | --- | --- | --- | --- |
| | | 1 | 2 | 3 | 4 | 5 |
| 6 | 7 | 8 | 9 | 10 | 11 | 12 |
| 13 | 14 | 15 | 16 | 17 | 18 | 19 |
| 20 | 21 | 22 | 23 | 24 | 25 | 26 |
| 27 | 28 | 29 | 30 | 31 | | |
---
CATEGORIES
---
RECENT ENTRIES
---
BLOG ROLL
Not your grandkids' bricks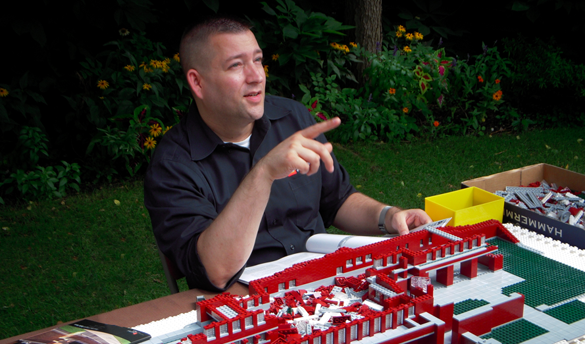 Frank Lloyd Wright's Robie house gets the LEGO treatment.
By Mitchell Kohles, '12
---
In America, if you didn't play with LEGO as a kid, you played with Barbie. If you didn't play with either, well, maybe you ended up at the U of C.
Steven fits into the first category, but it's too early to know if he'll be a Maroon. "2,276," he yells upon learning the brick count of the new LEGO interpretation of Frank Lloyd Wright's Robie House. "That's even more than the Temple of the Crystal Skull!"
On August 28, Steven and others—most of them adults—visited the Prairie-style landmark to meet Adam Reed Tucker, LEGO master builder and the man behind the LEGO Architect Series. The event launched the 16¼L x 4¾H x 7½W mini-Robie, and visitors could pick up a set of their own for $199. I don't get an allowance anymore, but if rates haven't changed much in the last 10 years, that price tag is no child's play.
And obviously, the goal of the LEGO Architect and Landmark series is to target the adult market, to make the bricks feel like an art form instead of a toy. Or at the very least, a sophisticated toy.
Tucker, who had a nine-month LEGO exhibit at the Museum of Science and Industry in 2009, is all about the "brick as art" idea. Six years ago, he was working as an architect using rebar, glass, and drywall to construct his buildings. But when the economy took a bite out of his business, he realized his LEGO side-project might be something more. "I realized that I could use the brick as a medium, not just a toy."
For the past five years, Tucker has been using those bricks to interpret famous architecture from around the world, from the Willis Tower to Burj Khalifa.
Build, play, stack? When asked, Tucker says he prefers "create." And on August 28, visitors got to check out his newest creation: a jumbo version of the mini-Robie, this one not for sale. Tucker is using 12 of the retail Robie sets to build an extra large (or slightly less small, depending on what you're comparing it to) version of Robie.
"I'm not really building it to scale," says Tucker. "It might be 1:127 or something else, but it is to proportion." After working on it for four days at his home, Tucker brought the model along with him to show his fans and continue building—after four days of work, he had only completed the exterior walls. "I'm just taking it apart and putting it back together until I'm happy with it." And instead of flipping through an instruction booklet (by the way, the booklet for the retail version is a hefty 195 pages), he consults Frank Lloyd Wright's photos and architectural drawings.
"I've studied him so much by this point," Tucker laughs. He even has plans to build a home of his own in recognition of Wright's work, using only stone, concrete, and wood. "Not a square inch of plaster."
As for the jumbo-mini-Robie, once it's finished Tucker plans to take it to the National Building Museum in Washington, where it will join 15 of his other creations, including Fallingwater, another famous Wright home.
The Robie House is the third Wright building to be featured in the LEGO Architect Series. Next up: Berlin's Brandenburg Gate, to be released before the end of September.
September 7, 2011