May 2012

| Sun | Mon | Tue | Wed | Thu | Fri | Sat |
| --- | --- | --- | --- | --- | --- | --- |
| | | 1 | 2 | 3 | 4 | 5 |
| 6 | 7 | 8 | 9 | 10 | 11 | 12 |
| 13 | 14 | 15 | 16 | 17 | 18 | 19 |
| 20 | 21 | 22 | 23 | 24 | 25 | 26 |
| 27 | 28 | 29 | 30 | 31 | | |
---
CATEGORIES
---
RECENT ENTRIES
---
BLOG ROLL
A cut above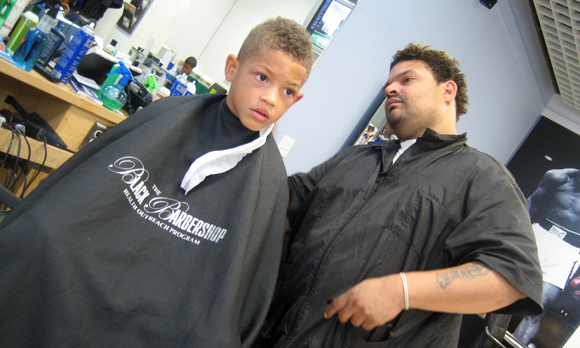 When I went over to Hyde Park Hair Salon—"Barack Obama's barbershop"—I had the impression that barbershops were somehow exclusive, like country clubs that cost much less and provide haircuts instead of tee times. I think Ice Cube and the movie Barbershop gave me that idea.
A stereotypically awkward UChicago student, I thought I'd have nothing to say and would get odd looks from everyone in the place. But I learned quickly that this barbershop is nearly the opposite, where people can say as much or as little as they want, and the conversation goes on.
I spent most of my time chatting with barber Kris Golden, a laid-back Californian with a crazy hairstyle—half of his hair is short and black, while the other half is long and blond. He gave the short answer on why the guys in the shop can make anyone in the chair relaxed. "Barbers are social geniuses," he said, because they must be able to talk to everyone who comes in. At $21 a cut, Hyde Park Hair Salon prides itself on providing a happy medium of average cost and high-quality haircuts, and the result is that the shop attracts a broad spectrum of clients.
"It doesn't matter if you're a police officer or firefighter or a street hustler or a politician. It's all about equality when it comes to haircuts," Golden said. In the couple of hours I spent in the shop Saturday morning, it showed. "You wouldn't know it, but the guy over there is a chess master," Golden said, pointing to an older gentleman sitting on the couches in back. A couple of chairs down sat a signed rap artist, and at the front of the shop was another U of C student.
The light but steady flow of customers was typical for a Saturday, which Golden said is the shop's quietest day. It's usually Thursday nights—deep enough into the week that clients have a good supply of stories and enough stress to tell them—that spark some more animated discussions branching from politics to women to sports to women. On Saturday the discussion skipped from lady troubles to the X-Games, which were playing on both of the shop's flat-screen TVs. At one point the whole group shared a laugh over YouTube videos on one barber's laptop.
For all the chatter, Golden said all of the social skills are ultimately just part of the equation for the guys with the clippers. "Every guy in here is on top of his game," he said. Some specialize in more conservative haircuts, while others—Golden included—are partial to flashy designs and graphics. The group takes its profession seriously, especially with clientele that includes the commander-in-chief.
The shop displays Obama's chair at the front of the store along with his portrait, and tours continually drop by for a look. But even those who have grown accustomed to Obama-mania in Hyde Park can stop by the shop for a chat and a haircut.
Jake Grubman, '11
Barber Kris Golden trims up a young patron's mohawk.
---
RELATED READING:

RELATED MEDIA:

August 4, 2009