May 2012

| Sun | Mon | Tue | Wed | Thu | Fri | Sat |
| --- | --- | --- | --- | --- | --- | --- |
| | | 1 | 2 | 3 | 4 | 5 |
| 6 | 7 | 8 | 9 | 10 | 11 | 12 |
| 13 | 14 | 15 | 16 | 17 | 18 | 19 |
| 20 | 21 | 22 | 23 | 24 | 25 | 26 |
| 27 | 28 | 29 | 30 | 31 | | |
---
CATEGORIES
---
RECENT ENTRIES
---
BLOG ROLL
Peeps last call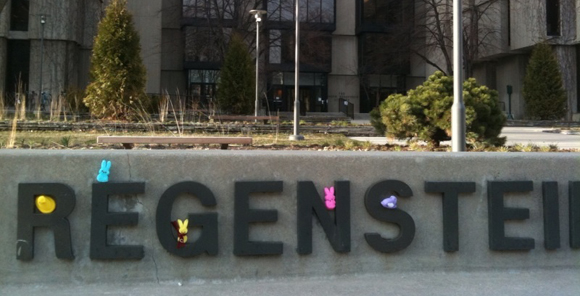 Perhaps they're sitting on your dining room table or languishing in an Easter basket. Wherever your Peeps are, you know you're not going to eat them. Put them to a good use and take advantage of our Peeps in Places contest extended deadline. Submit your pix by Sunday, April 11, midnight to win!
Send entries to uchicago-magazine@uchicago.edu with "Peeps Photos" in the subject line, or add photos to our Flickr group directly at www.flickr.com/groups/uchicagopeeps/.
Don't delay any longer!
Photography by Hanna Ernst, U-High'04
---
RELATED READING
Where Peeps come to dioramas (University of Chicago Magazine)
Washington Post Peeps Show IV : Annual Peeps diorama contest

Peeps in Places contest (National Geographic Traveler)

April 6, 2010